This year I was honored to be one of the eight SITE Santa Fe SPREAD finalists!
SPREAD is a community dinner that funds artists' projects and creative initiatives. SPREAD seeks to provide micro-grants for innovative projects and artworks conceived by New Mexico-based artists.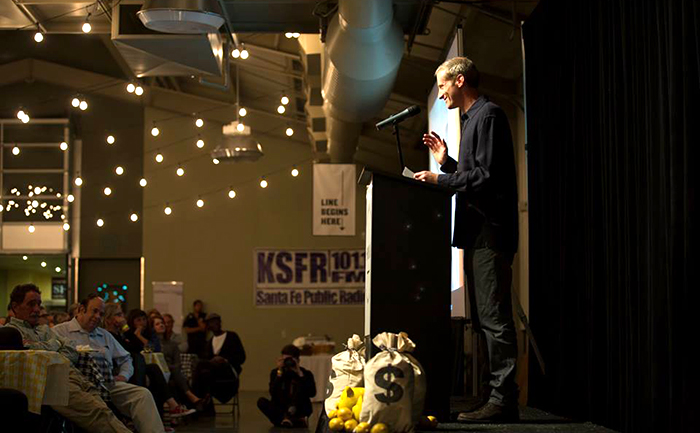 Transcript from my speech (you'll just have to imagine the slide show):
My first recorded work of art was an arc of family shoes. This was made when I was still crawling. I've always been attracted to beauty, simplicity and symmetry. These are the same principles we use to explore the world around us, and to build fantastic things- like particle accelerators. This is a process of discovery. The scientific method. In my painting practice I found an efficient way to work with these principles. I am looking for order without ignoring complexities.
I was born and raised in Santa Fe. I spent 15 years away, and returned with my wife Kim to slow things down, be close to my family and have our daughter. When I first met Kim, I followed her out to Philadelphia. At the time, I was deciding between writing and painting. I wrote a really bad coming of age novel, and the next year I checked myself in to graduate school for painting at Pratt Institute. Creative cycles don't always match up with the calendar year. Half-way through my thesis I turned my paintings to the wall and started over.  I had seen a Robert Irwin scrim installation at the Dia Center on 22nd st, and was totally blown away. I needed to rethink what painting meant to me. I began with proportion, and painted vertical lines as a measuring device. Then I added color, and fell in love. This evolved into my current practice.
This year for the first time, I said "no" to website jobs, "no" to construction jobs, "no" to art collection management jobs; and said "yes" only to artistic projects, time in my studio, and teaching painting. I also moved into a larger studio on the south side of town. Before, I was painting out of our 1 car garage and had no room to step back to look at the work. I'm at a point where a good studio space is no longer a luxury. It's a necessity. I'm working on a larger scale that simply wasn't possible before.
The first painting I made in my new studio is a triptych that spans over 13 feet titled  "Wet Snow Falls From a Pine Branch". I was coming down the mountain in March. A branch sprung up from the release of the heavy snow, and that moment caught me. Finding and remodeling my new studio delayed working on this painting. By the time I was ready summer was on its way, and I was unclear how I was going to connect with that moment again. I was driving down Old Las Vegas hwy, looking at the parched foothills, seeing the dead trees and cleared spaces. I thought about the feeling of drought and how closely it feels like recession, I thought about my friends that have no partners in their lives, and the struggles that each of us encounters. I wished for it to rain physically and metaphorically – and decided I would make this painting even if it was hot and dry.
By chance, and with good fortune, when I started the painting, and while working on it, torrential rains came down in Santa Fe, and the mountains were covered in a blanket of snow. "Wet Snow Falls From a Pine Branch". The title has 7 syllables, like the central line in a Haiku. I often think of my paintings as Haiku scenarios.
Your vote for me tonight means, I will I will keep moving. I will move more. I will use this seed money to cover my studio rent. My job is to bring good fortune and creativity to the community. If you feel a connection to my work and want to help give me a push, please support me in this next level of my growth.
Thank You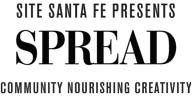 More Information: SITE Santa Fe Presents SPREAD